Many ladies prefer to use an epilator, rather than a shaver. An epilator pulls out hairs from the root, which keeps the legs and skin smoother, for longer. Instead of having to shave every two or three days, epilating can last for up to four weeks. Braun is a well-known brand of shavers and epilators. If you buy Silk-epil you're getting a complete epilating package, not just one epilator. The Braun Silk-epil is cordless, rechargeable, and can be used wet or dry.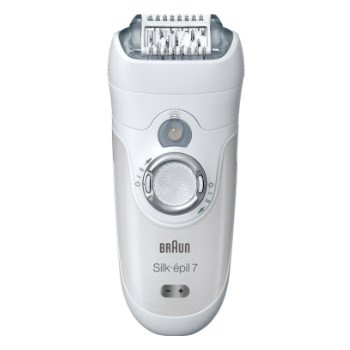 The Silk-epil comes with five different attachments, so you can tailor your shaving experience to which part of the body you plan to shave. Certain attachments are also designed for certain types of hair. You may find you don't need all the attachments, but it's Braun's best way of ensuring that you have a clean, smooth shave. There is a separate shaver head, a trimmer cap, an efficiency cap, a sensitive area cap, as well as a facial cap. Choose applicable caps for whichever region of the body you're shaving.
Many women will love the efficiency cap, which is designed to remove hair in one clean stroke. The Braun Silk-epil is designed with soft lift tips, which will guide your hairs into the tiny tweezers of the epilator. The head on the epilator actually pivots, and moves with your skin. It will pivot at up to fifteen degrees, and forwards and backwards. This allows it to adapt to all the contours on your face, body, and legs. It's Braun's way of ensuring the most comfort, with maximum efficiency.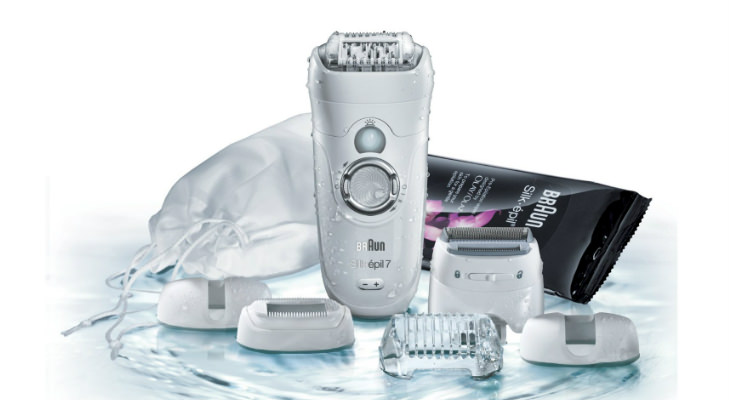 The Silk-epil has a white plastic casing, with gray highlights that will fit comfortably in your hand. There is a round on/off switch in the center, with two other comfort settings on either side. One setting allows you to chose either off, soft, or fast running. The soft speed gives you extra-gentle hair removal, while the second speed gives you high-efficiency hair removal. A smart light above will light up your skin, so that you can see whether you have removed even the tiniest hairs, or not, and may need to do another pass with your Braun Silk-epil.
If you cringe at the thought of hairs being ripped out of your legs at rapid vibration, Braun does a great job of making epilating a more comfortable experience. Pain is minimized, and it is a better and faster option than leg waxing. The more you epilate, the greater your chances that the hair won't grow back again. Hair also grows back at a different rate, so that you'll find that the next time round, you won't need to shave off as many hairs.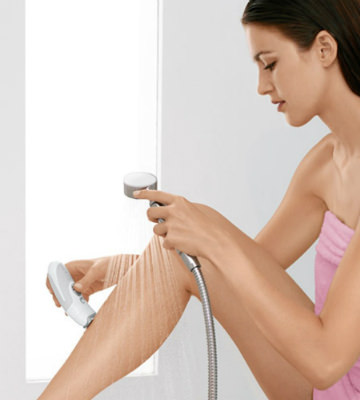 An additional benefit of the Braun Silk-epil is that the high frequency vibrations used to remove your hair will also massage your skin. This helps to soothe that annoying plucking sensation, and will help you to forget that there may be any discomfort.
You can use your Silk-epil either wet, or dry. It's 100% waterproof, so if you drop it into your bathtub water, you won't have to worry about the inner mechanics being wrecked. You can use it dry for quick touch-ups, but for maximum effect, it's best to use while you're in the shower or bathtub. You can apply shaving creams, gel, and foams, which will minimize the numbness after the Silk-epil pulls the hair out from the roots. Discomfort will also be minimized when you use your Braun Silk-epil with warm water, in tub, or shower.
Warm water can actually increase the circulation within your skin, which allows it to bear extra pain. Warm water stimulates the production of pain-producing substances in the body—a hot soak in the tub always eases sore muscles—so there will be less sensitivity to that skin tugging sensation when you are using an epilator.
Built into the Braun Silk-epil are forty close-grip tweezers. These tweezers are designed to grab hairs that are even close to the surface of the skin. These tweezers grab the hairs and pull them out efficiently, even the shortest hairs of 0.5 mm, or the most longest. Your skin and legs will remain smooth, up to four weeks, or depending on how quickly your hair grows.
Many shavers and epilators will take forever to charge. You'll be pleased to hear that the Braun Silk-epil takes only one hour to fully charge up. This gives you up to forty minutes of shaving time. Since you are using an epilator though, you don't want it to start dwindling down during use, as that can make the shaving experience uncomfortable. To charge up your Braun Silk-epil you place the charging cord into the epilator's charging socket, until you feel a click. You may need to press harder the first time you insert it.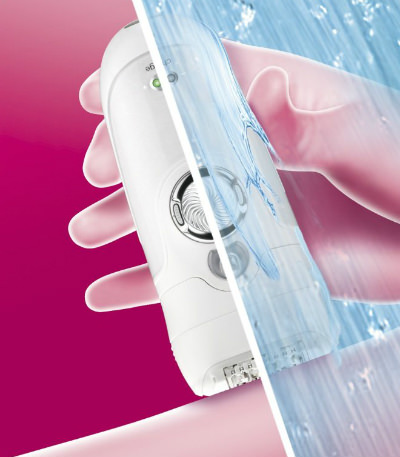 The Braun Silk-epil can only be used once it's fully disconnected from the main power and recharger dock. This prevents any mishaps from its being used in the tub while it's still connected to power.
Inside your Braun box you'll receive one Braun Silk-epil 7681, a shaver head, the trimmer cap, a sensitive-area cap, a facial cap, an efficiency cap, a travel pouch, and a set of pre-epilation wipes to help prepare your skin for efficient shaving. The complete kit weighs 1.4 pounds.
The Braun Silk-epil is a great way to remove hair quickly in the shower or tub, and ensure that your skin stays looking clean and smooth, for up to a month. It's perfect for ladies who always wish to look their best, yet lead busy lives. You may find you don't use all the attachments, which honestly does raise the price of the epilator, but for most women, it will be worth looking great in dresses and skirts.
Braun SE7681 Silk-Épil 7