Braun has a great line of men's shavers, so it's a matter of finding the right one for you. It really depends on whether you simply need a shaver to remove the stubble from your face, or whether you need additional features for a faster shave for thicker coarser hair. The Braun 3 Series 340S-4 Wet & Dry Shaver is a wet and dry shaver that comes in a black and dark blue plastic body. It's foil-style, like the rest of the Braun shavers on the market. The on/off button is right at the middle front of the shaver, with the Braun logo located at the front bottom.

It took Braun seven years to develop this product. It has the distinction of being the Official NFL Locker Room Product.
Don't let the Series 3 model discourage you—Series 9 is the best—but Series 3 will still do a perfect job of shaving your face. This shaver is built with sharp blades that will give you a smooth shave, even after not shaving for the entire weekend.
This is a foil-style shaver, and is built with SensoFoil technology that can adapt to the contours of your face. You'll enjoy the comfort and feel of it as it glides easily around your face. The motor will always remain steady, without any jerks or stops. This shaver is adaptable and versatile. Men will also appreciate its affordable price. You'll be able to integrate it into your own shaving routine, whether it's early morning, at the office, or before an event.
The foil of the shaver has also been built with a Triple Action Cutting System. There are also three different parts to the main foil head of the shaver. Each of these is a part of the Triple Action Cutting System. Each of these works together to ensure that all hairs are trimmed off with every pass of the shaver. If the first one doesn't get a hair, then the second or third one will. This will also minimize the skin irritation that can occur when you have to repeatedly run the shaver across your face, such as in cheaper shaver brands.
| | | | |
| --- | --- | --- | --- |
| | Braun 3 Series 340S-4 Wet & Dry Men's Shaver | Braun Series 7-790cc | Braun Series 9 9095cc |
| Score | 4.3 | 4.6 | 4.4 |
| Battery | 60m | 50m | 50m |
| Display | | LED | LED |
| Blade Type | Foil | Foil | Foil |
| Wet and Dry | | | |
| Trimmer | | | |
| Cleaning Unit | | | |
| | Read the full review | Read the full review | Read the full review |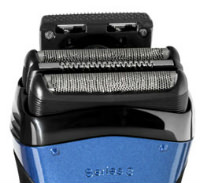 You'll be able to shave dry, or you can take it into the shower or bath. It will also work well with shaving gels, lotions, or foams, so you can minimize any razor burn. Braun makes the claim that this shaver will provide for 30% less skin irritation than with a rotary-style blade that has built-in skin conditioners.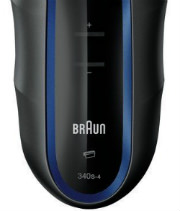 This also makes it easily washable, so you can get out the tiny hairs and the shaving gels or foams too, so you can keep your shaver in top running order.
The Braun 3 Series 340S-4 Wet & Dry shaver is also rechargeable, making it safe to bring into the shower, or pack for a short trip. It is built with a Ni-MH battery. This is a special type of battery that does not suffer from the memory effect drain of repeated chargings, which have plagued rechargeable products for the past couple of decades.
There is also an LED display panel on the front of the shaver. This will tell you two things. It will tell you the battery level and whether you need to plug it in to be charged up again. If it is plugged in and charging up, it will tell you what the charging status is, and when it is ready to be used again.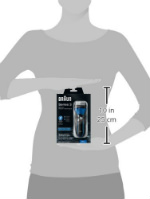 At the back of this shaver is a precision hair trimmer. This special trimmer can be used to shave around a moutache, trim sideburns, or trim around your beard.
If you're wondering if this is the best shaver for you, you may wish to compare it with other shavers. The 340s shaver does not come with intelligent pulsonic technology, ActiveLift, or Optifoil. All of these items make the shaving experience better. If you do want these items, your better choice is a Series 7 720s. The 340s also does not have three personalization modes, a lockable head or a travel pouch like the Series 7 men's shaver does. You'll have to decide if any of these features are important to you before purchase. You'll also want to note that the costs get higher for the Series 7 Braun shavers.
This shaver is priced around $60. In the box, the package measures ten inches or 25 cm in length. There is a two year warranty on this product.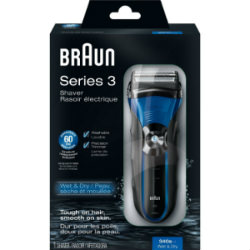 In the box you'll get one Braun 3 Series 340S-4 Wet & Dry Shaver, a cleaning brush, and a SmartPlug to do your charging for you. This is a plug that works from 100 volts to 240 volts. You can also buy additional parts for your shaver if your foil and cutter wears out. Choose the 30B 7000/400 series foil and cutter replacement pack.
The reviews are excellent for the Braun 3 Series 340S-4 Wet & Dry Shaver. It has 4.2 out of 5 stars on Amazon. If you're looking for a great shaver, but don't want to spend more than $60, this is the one for you. But if you're willing to spend over $100, you may benefit from seeing the shavers that are in the Braun Series 9 line. Whichever you choose, you'll love how well it shaves, and how long it lasts.
Braun 3 Series 340S-4 Wet & Dry Shaver