Women have an easier time of finding the best women's electric shaver, as there aren't as many shaver products on the market for women as there are for men. But every manufacturer of men's shavers: Braun, Panasonic, Conair, Philips, and Remington, each have their own shaver versions for women's special shaving needs.
Here are the best lady shaver reviews.
Panasonic Close Curves the Best Lady Shaver
Women need the best lady shaver for legs and other body hair that can be used dry, or wet in the shower or bathtub. The Panasonic Close Curves Women's shaver is almost as affordable as buying disposable razors, but without the discomfort. It comes in a white and rose casing, with a foil-style razor head. It's also cordless and rechargeable.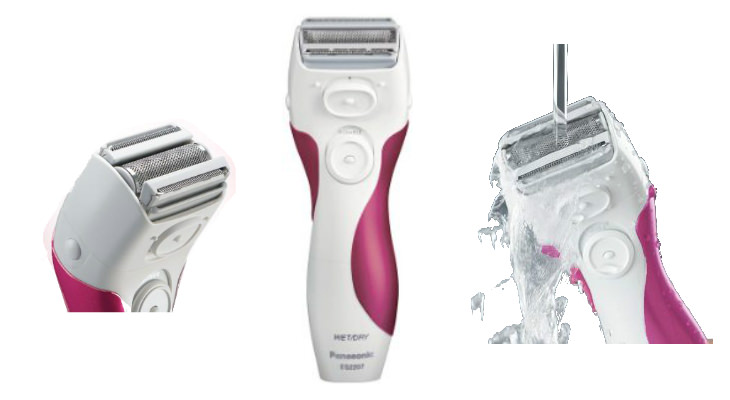 The on button is on the upper middle front, and the foil head gently tapers upwards. Built within the foil head are three independently floating heads that all work together to effectively shave a woman's legs, underarms, and other parts of her body.
This shaver has wet/dry convenience. It'll do a great job for a quick morning shave when a woman needs to look good in a dress or skirt, but this shaver can also be taken into the shower or the bathtub. With the addition of shaving gels, foams, soaps, or creams, the shaver will be able to get in closer to the skin, for an even smoother shave. You can also just toss it into a bag if you're heading somewhere special, as you may wish to do a quick touch-up shave in the women's washroom.
The blades built within the Close Curves shaver are super sharp, and they are hypo-allergenic. This helps to reduce irritation when shaving on sensitive skin. This shaver provides for maximum comfort when shaving.
This shaver is also good for trimming around the bikini area. There is a pop-up trimmer that is suitable for removing unwanted stray hairs from smaller regions. Women will also find this shaver quiet, and it's easily washable after shaving. Simply rinse it under the tap to remove soap and hair. This shaver has been designed with a sleek, ergonomic casing that fits comfortably in your hands.
The Close Curves shaver costs only $20, so most women won't hesitate to buy one. The box includes the shaver, a AC charger, and a travel pouch.
Braun Silk-épil LS5160WD Lady Shaver
The Braun Silk-épil LS5160WD lady shaver works as a dual care device: shaver and an epilator. It runs on batteries, and can be used wet or dry. You can bring it with you for quick convenient dry shaving anytime, or use it in the shower or bathtub. This is a traditional looking ladies shaver, with a white and light blue casing.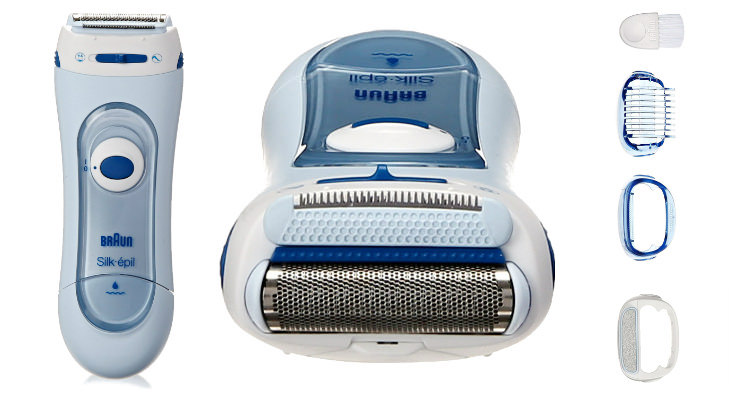 There is a large on button on the centre of the device. This can be pressed and slid up to turn the switch on and down for off.
This is a foil style lady shaver that has a rounded head which can gently slope along the body's contours to effectively remove hair. It has an extra-gentle head, so that there is no irritation, razor burn, or red skin after shaving. Built within the shaver is a combination of a floating foil and a long hair trimmer, to ensure that legs are quickly and effectively shaved to a smooth finish.
Check Price of Braun Silk-épil LS5160WD Lady Shaver
There is a built-in SoftStrip which is designed to stretch the skin so that the blades can be easily reached, without causing discomfort. The shaver should be used against the direction of hair growth. If you haven't shaved for a long time, it's recommended that the shaver be used without the OptiShave attachment first. This will do a faster pre-cutting of hairs, and then you can place the attachment back on and get even closer.
The Braun lady shaver comes with accessories. There is the exfoliation attachment, a bikini trimming attachment, and the OptiShave attachment. The exfoliation pad attachment will gently scrub the skin to remove dead skin particles.
Two AA batteries come in the package, to help you get started. The shaver measures 5.9 inches tall and costs about $40.
Conair Satiny Smooth Ladies All-in-One Personal Groomer
The Conair ladies all-in-one personal groomer and shaver is an affordable shaver that is cordless, rechargeable, and can be used wet or dry. It has a unique curved and indented design, making it easier to grip, even when a lady may use shaving gels, creams, or lotions in the shower.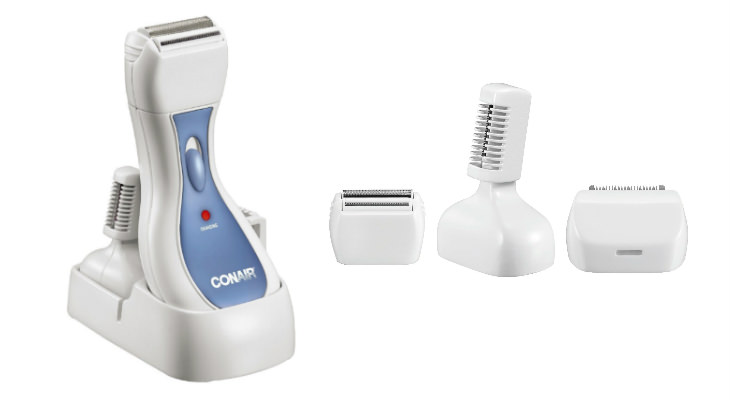 This lady shaver is made from a white plastic casing with a blue front. The power button is on the front middle, along with a red charging button that lights up. The charger has a combination storage and charging stand, which also stores the additional attachments.
This shaver has a foil head and gives a close and comfortable shave. There is an additional bikini trimmer which is suitable for trimming delicate areas, as well as a detail trimmer that has an adjustable comb to trim eyebrows and other precision needs.
The combs of this shaver offer five different positions, with the detail comb having two adjustable positions.
Inside the box is the Conair personal shaver, cleaning oil, a cleaning brush, the charging and storage stand, and three attachments. The battery contained within the shaver is a Nicd one. This shaver has a two year warranty.
At only $20, this shaver is affordable, and most women who have been hesitant at spending money on an electric shaver will be pleased to buy one. The additional attachments make shaving the entire body a simpler and more pleasant experience, reducing nicking and irritation. The shaver also has a good shape, making it less likely to drop in the shower, especially when a lot of soap or lotion is being used.
Remington WDF4840 Women's Smooth and Silky Foil Shaver
The Remington WDF4840 women's foil type shaver is also an affordable shaver that comes in an attractive white and purple casing. It has an on/off switch along the front middle, and costs around $35. It's also cordless and rechargeable, and can be used wet or dry, or out of the shower. The Remington WDF4840 is also one of the best lady shaver available today.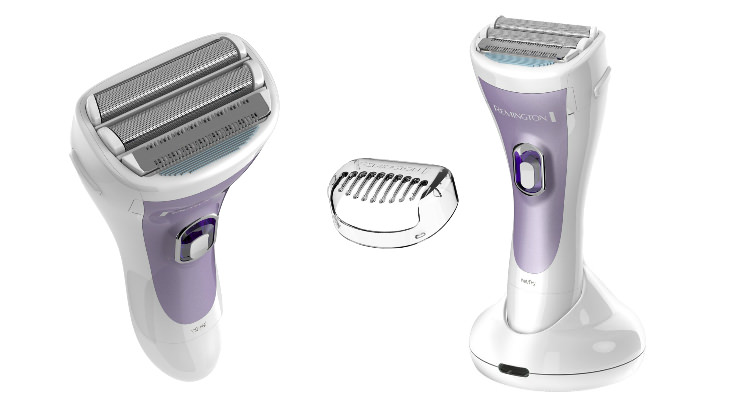 It comes with an extra attachment, and has a separate charging and storage stand with cord. The back of the shaver has indentations, helping make it easier to grip. The shaver also has a narrow bottom, and then elongates upwards to a wider foil head. This makes it easier to grip in the shower. This lady shaver can also be used with gels, lotions, and creams, and can easily be rinsed under a tap after use, and allowed to air dry.
Within this lady shaver is an advanced cutting system, consisting of sharp blades. Inside is a four blade cutting system, so if the first blade doesn't capture all the hair, the second, third, and fourth will, eliminating the need to repeatedly do the same pass back and forth. This four blade system is unique to Remington. This can also save time, particularly when a women needs to get ready for a meeting. The foils of this shaver are also hypoallergenic, with floating heads.
Check Price of Remington WDF4840 Women's Shaver
Women will find that shaving time is decreased with this shaver. The additional attachment is a bikini trimmer guard, to eliminate tugging and pulling of hairs in delicate regions of the body.
There is also a replaceable aloe vera strip, which will help to provide a smooth comfortable shave, and lessen irritation. It provides nourishment for the skin.
One full charge will give about thirty minutes of cordless running time. The shaver measures 3 inches by 4 inches by nine inches long. It includes the charging stand, which has a long cord, so you don't need to keep it right beside the outlet on your bathroom counter.
Inside the box you get one Remingston WDR4840 women's shaver, the extra bikini attachment tool, the charging stand and a long charger cord.
Whether you are seeking a women's personal shaver, trimmer, or epilator, Braun, Philips, Conair, Panasonic, and Remington are all good manufacturers of women's personal care products. These manufacturers always back up their products with a reasonable warranty, and product quality and design. You can trust that you're buying a great shaver that's going to last for many years to come.
You really can't go wrong with a well-known name brand. You may wish to avoid the cheaper no-name brands that have no warranty, and are often disposable after a few weeks, which is bad for the landfills. If you need to buy a new women's shaver because your old one is not functioning well, or you've been surviving on traditional razor blades, go ahead and buy the best lady shaver.