Wahl makes a line of men's personal grooming products that are gaining in popularity. The Wahl Groom Pro Body Grooming Kit offers a large selection of grooming products in one kit, so men can save money. This kit is under $23, and contains everything you need. There are actually separate clippers and trimmers, and they come in a black, lime-yellow and white colour. There are twenty-two different pieces in the kit. The clippers are designed to be used corded and are not rechargeable. The trimmer runs on batteries and is cordless.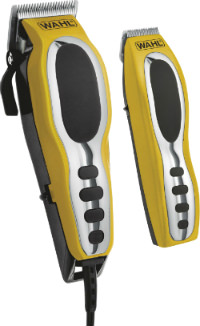 The Wahl kit will enable men to complete a total head-to-toe body grooming. It can be used to trim shorter buzz-cut hairstyles, trim or shave facial hair, and even trim body hair.
The entire kit is contained within a durable black carrying case with handle. It includes the cordless trimmer and multi-cut corded clippers, a clipper blade guard and a trimmer blade guard, two barber hair combs, a cleaning brush, motor oil, 12 different styling clipper combs, and English/Spanish full colour instructions with a styling guide.
The blade guards are made from a hard plastic material. Most of the combs come in black, except for one which is lime green colour.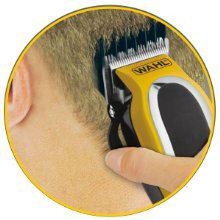 The detail trimmer takes two different types of combs: the 1/4 inch and the 3/8 inch combs. It's still a full-size trimmer, much like a men's shaver would be. Men will appreciate the complete set of worry-free guiding blades that will take a lot of the work away from shaving and trimming. It will be much easier to blend and customize your optimum cutting lengths. There is also an adjustable taper level. The guide combs will enable men to shave their hair with the same length all over, which will provide for a more professional looking shave. The trimmer and clippers are even suitable for thick wiry ethnic hair.
Men will actually be able to save money when they purchase the Wahl Groom Pro Body Grooming Kit. They will no longer have to visit the barbershop every three or four weeks. Even if a visit only costs $25, when you add that up by the end of the year it could mean you could save hundreds of dollars. If you use the grooming kit on the entire family, you could potentially save even more.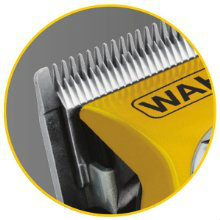 The blades built within the Wahl Groom Pro are made from high carbon steel. They are precision ground to stay sharp for longer, and to provide a safer way to trim hair from a man's skin more closely, but with less irritation. These types of blades will stay sharper for longer than most other types of clipper or trimmer brands. The blades will not tug or pull at hairs, which can make shaving uncomfortable. Men will be left with regular comfortable-feeling skin even after shaving or trimming—no redness, soreness, or scrapes.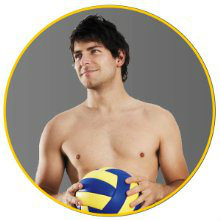 The larger clippers have a PowerDrive heavy duty motor that provides strong power that is still safe for most types of hair. It will not cause snagging or pulling. The blades built within it are self-sharpening and precision-honed and ground. They'll provide smooth cutting through any type of hair, and will stay sharper for longer. The Wahl Groom Pro Body Grooming Kit was actually made in the USA. Some of the parts in the shaver and accessories were also made in the USA, and some were made overseas and have been imported, but it's good to know that the Wahl manufacturer tries to keep jobs within the consumer market it is selling for.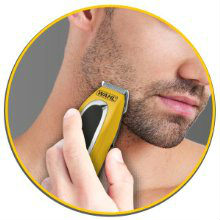 The smaller trimmer is perfect to use for quick touch-ups or trimming sideburns, moustache, or around the neck or chin line. The larger trimmer can be used to trim shorter men's hair styles, or for total body grooming.
The Wahl Groom Pro will only work in USA/Canada electrical outlets and are not suitable for international use. They do not work with international outlets. The good news is that the trimmer does run on batteries, so you can pop it into your luggage for wherever you go. You'll need to remember to pack an extra set of batteries though.
The package measures 3" x 7.5" x 10" and weighs 2.2 pounds. The detail trimmer takes two double A (AA) batteries that are not included in the box. If you're concerned about the environment, you can purchase a rechargeable battery kit, and always have a set ready to go for when your current batteries die down.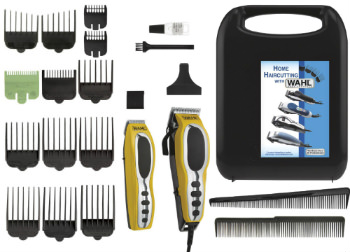 The reviews on the Wahl Groom Pro Body Grooming Kit are favourable, with about four out of five stars. Be sure to test both clippers and trimmers right out of the box, because some people have noted that sometimes the trimmers have issues. It's best to send them back for a replacement as soon as possible.
If you've been seeking an inexpensive body grooming kit for under $23, the Wahl Groom Pro Body Grooming Kit may be just what you've been looking for. The trimmer and clippers have a distinctive retro look that will look cool on the counter. You may wish to purchase an extra set for travelling, or the office or car. This kit also makes a great secondary shaver purchase if you already own a premium shaver in another brand line.
Wahl Groom Pro