If you are looking for a good quality shaver which will provide you with a great experience but won't break the bank, then the SweetLF 3D is just what you need. For a mere $30 you can get a shaver which is not only waterproof but gives you a smooth and close shave and is extremely quiet.
USB Quick Charging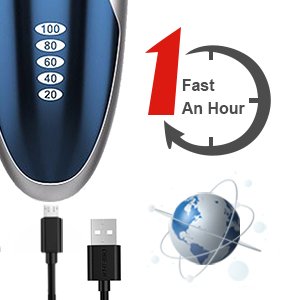 A common problem with budget shavers is that they need to be charged all the time. Well, this is not an issue with the SweetLF 3D. With an hour of charging, it can go for 120 minutes which makes up to around 30 shavings. Your shaver stopping mid-shaving will not be a common occurrence with this one. The USB cord is also extremely convenient as you can charge your shaver from a laptop or a wall outlet. It is a micro USB chord, so it is easily replaceable if lost. The SweetLF 3D is therefore suitable for travelling as well as for frequent daily use.
There is also a LED display indicator on it, so it won't be a surprise when the battery dies. There is a 5-level battery remaining indicator on the LED display, so you will be warned well before it is time for charging.
Fully Waterproof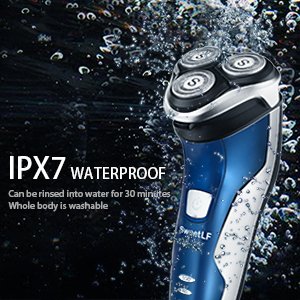 The SweetLF 3D is a shaver that you can even use while in the shower. It doesn't matter if it is wet or dry, it will be working without any problem. This feature also makes it possible to use shaving foam or gel with your SweetLF 3D as it adapts to both. This way you can have a closer shaving and an even smoother finish with an electric shaver.
Smooth and Close Shave
Since we are at comfort, let's see how the SweetLF 3D does in terms of closeness and smoothness. With the help of the 3D 4-direction floating heads, the SweetLF 3D fully adapts to the contours of the face and neck. The rotary blades can give you a close-to-face and comfortable shaving experience with a guaranteed smooth finish. No itching or irritation on the skin, just a smooth and comfortable feeling.
Pop-up Trimmer
The SweetLF 3D is also suitable for those who are not looking for a close-to-face shave, just for a trim on their beard or moustache. There is a one touch open bar for the trimmer which makes it extremely easy-to-use. Basically, with one motion you can access a completely different feature and shaving experience. It can help you have a more detailed shave or to access areas which are harder to reach.
Quiet and high-speed motor
Quietness is something that can't be disregarded when purchasing a shaver. Those who have ever had to suffer through a loud shave know this. Loud car engine? Fine. Loud shaver? Not so much.
The SweetLF 3D also has a high-speed, premium quality motor which could easily compete with most Philipps shavers which are 4 times the price of the SweetLF.
Extreme Shaving System
The SweetLF 3D is provided with automatic grinding technology and self-sharpening blades which will guarantee to minimize cuts or damage on the skin. This technology will also prevent the shaver from pulling on your hair. The self-sharpening blades of the Sweetlf 3D give it a long-lasting life.
Cleaning and Maintenance
The SweetLF 3D shaver is really easy-to-clean with its whole body being washable. You can easily just run it under water. There is a cleaning brush included with it as well. In addition, thanks to its hair collecting feature, the SweetLF 3D will also provide you with a shaving experience after which you don't have to deep clean the whole bathroom. There is a chamber in the bottom of the razor which can be easily emptied after you are done.
Although the SweetLF 3D is durable, if the time comes for a head change, it won't be an issue. While with many shavers it is either extremely hard or expensive to replace the head, you can easily find and purchase SweetLF 3D razor heads for $11 which is a reasonable price considering that you won't have to change them frequently.
It is really hard to say anything bad about the SweetLF 3D. It is light, quiet, durable, waterproof, easy-to-clean and easy to use. It has most of the features that a premium category shaver would have but for quarter of the price. The long-lasting battery life and the easy charging is really an extra that can make your life easier when travelling. And for the most important part, this is a powerful and precise shaver which will give you a closer and smoother shaving experience then most shavers in this price category.
If you are looking for a budget shaver that can give you a premium shaving experience, then look no more, because the SweetLF 3D is just what you need.