Some men prefer to buy a rotary head style men's shaver. The Philips Norelco Shaver 7900 S7940/84 is offered at a reasonable price range, and has a dark black and blue stylish look to it that will provide a smooth clean shave. Philips has been a trusted personal care manufacturer for several decades, so it's worth spending a few extra dollars on this quality shaver.
Cordless and Rechargeable Philips Shaver

This shaver is both cordless and rechargeable. It can be used wet or dry. You can add your favourite soap, gel, foam, or other shaving products. If you don't have time that day, you will still get a great shave even when using the Philips Norelco Shaver 7900 S7940/84 shaver completely dry.
Stainless Steel Blades
Many people have allergies to the cheaper metals, so you'll appreciate how the blades in this shaver are made from stainless steel. You can get a clean close shave with the Philips Norelco 7900 S7940/84 shaver and not have to worry about irritation or redness afterwards.
…and not have to worry about irritation or redness afterwards.
Unique Philips Rotary Head Features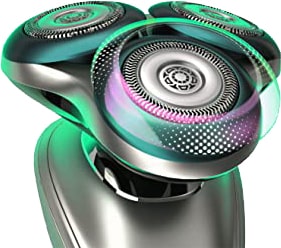 Built within the three rotary heads are anti-friction rings that you won't see on a basic shaver head. These rings provide comfort as the shaver heads rotate and trim the hair from your skin. These anti-friction rings are coated with tiny glass-like spheres that ease friction against your face.
Also within these three shaving heads are gentle precision blades. These blades gently shave the hair off even the most sensitive skin. The blades won't tug or pull at your skin, even if you go over it a few times.
These blades gently shave the hair off even the most sensitive skin.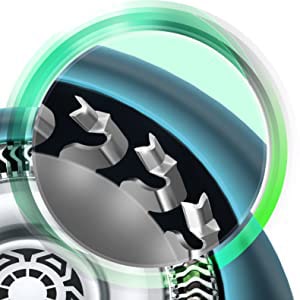 The rotary heads also have contour detect technology. They will gently follow the contours of your face and neck. They flex and move with the curves of your face. You won't need to exert more pressure as it will sense when to effectively shave.
These features help to provide a nice comfortable shave, even if you have three-day old stubble build-up. Overall, you'll have less stress on your skin.
High-Tech Philips Shaving Features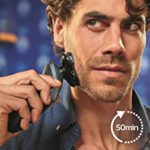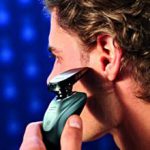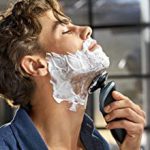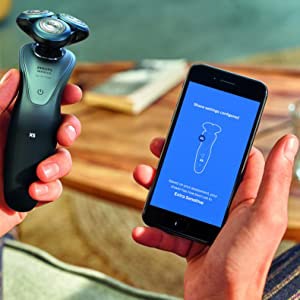 You won't see this feature in just any shaver. You can download the Philips Norelco shaver app to help provide you with your own personal shave plan. This app will provide advice for your specific skin and beard issues. It was created by dermatologists to provide personalized advice, and will also track your shaving progress day-by-day. This is especially beneficial for men who have super-sensitive skin. Men who have used this app have said that they've experienced a more comfortable and smooth shave in just three weeks.
Additional Philips Features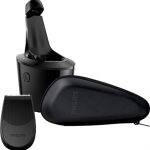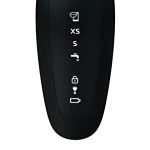 This shaver comes with the shaver in box, as well as an attachable facial hair trimmer, a clean and charge station, and a protective travel case. If you are ready for a great shave that combines technology and durability, the Philips Norelco Shaver 7900 S7940/84 men's shaver will be your next big investment.
Philips Norelco Shaver 7900