Philips has their renowned Norelco line of rotary-style men's shavers. The Philips Norelco 5500 is a cordless and rechargeable shaver that can be used wet or dry, and comes with an attachable precision trimmer. Best of all it's available for around $100, proving that you don't have to spend $300 to get a good men's shaver.
The Philips Norelco 5500 S5370/81 comes in a black and grey body with rotary head. The on/off button is located about halfway down the body, with an LED readout screen on the bottom. This display has a three level battery indicator status so you'll know if it needs to be plugged in for charging. There is also a travel lock, so that your shaver won't accidentally turn on while in transit.
can be used wet or dry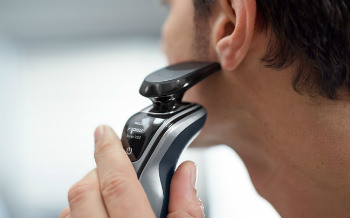 It'll also let you know when it's been fully charged up so you can put the charger cord away. The three level battery status will also let you know when you need to clean your shaver, alert you to a low battery level, and also let you know when the head needs to be replaced. The shaver has a tapered curve on each side of its body, enabling a man's hand to hold it more firmly, without fear of dropping it, even if it's in the shower or covered in soap.
tapered curve on each side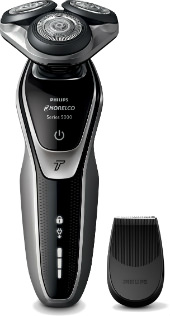 The Philips Norelco 5500 has a powerful turbo motor feature. You can use your shaver at regular power, or press the Turbo button for a power boost. Not only will a man be able to get ready faster in the morning, but this motor will shave quickly through the densest parts of a beard with 10% more power than using the shaver without the turbo mode. You have the choice of getting ready faster in the morning with the turbo mode.
Turbo button for a power boost
Inside each of the rotary sections is the MultiPrecision blade system. It doesn't matter if the hairs are only stubble, or they are three days of growth, these blades will easily raise them up, and snip them off for a faster shave. The first blade in the rotary head will raise up each hair, while the second blade will snip it off below skin level, resulting in nice smooth facial skin.
Compare Philips Shavers
| | | | |
| --- | --- | --- | --- |
| | Philips Norelco Electric Shaver 5500 | Philips Norelco 1250X/42 | Philips Norelco S9721/87 Shaver 9700 |
| Score | 4.3 | 4.1 | 4.5 |
| Battery | 45m | 60m | 50m |
| Display | | LED | LED |
| Blade Type | Rotary | Rotary | Rotary |
| Wet and Dry | | | |
| Trimmer | | | |
| Cleaning Unit | | | |
| | Read the full review | Read the full review | Read the full review |
Other Features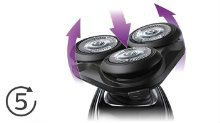 You'll also be able to have a more effective shave. One pass of the shaver will capture most stubble and hairs, shortening your shaving time with just a few strokes. This also has the benefit of not irritating your skin, or leaving it red and irritated.
Each of the three heads in the rotary top are 5-way directional flex heads. They can pivot and move in five different directions. This also enables a fast and close shave, and makes it easier for a man to shave along jawline, chin, cheeks, and neck, without having to force it into the required path.
5-way directional flex heads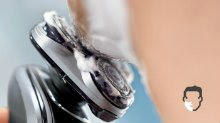 This shaver will provide a good and comfortable shave when used dry. It's handy to pack into the briefcase for when you need to do a quick touch-up before a special meeting or a date at night. It's also great to be used wet and will provide a refreshing wet shave too. The shaver is completely waterproof with its Aquatec technology.
This Philips Norelco 5500 shaver does not come with a cleaning and charging station that is popular with the more expensive lines of Norelco shavers, but it's still simple to clean. The rotary top flips open, so the shaver can be rinsed under the tap. This is a one touch open, and then after cleaning, it snaps closed easily. It's recommended to do this on a regular basis if you are only using it for dry shaves, but if you're using shaving gels, lotions, foams, or soap on a daily basis, you should give it a good flush out once a day to prevent the buildup of shaving products, which can cause it to not shave as well.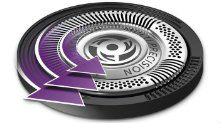 The rotary head easily removes from the top so that the attachable Smart Click trimmer can be inserted. This trimmer is useful for trimming sideburns, beard styling, and trimming around moustaches. This trimmer is also skin-friendly so it'll safely trim hair, but not scrape skin.
The charger cord attaches to the bottom of the shaver for recharging. It takes one hour to fully charge it up. One full charge will provide you with forty-five minutes of shaving time. This will be enough to do about fifteen shaves, enough for over two weeks. If it's run out of charge, it's not a concern, as it will only take a quick five minute charge, so that you have enough power to do your morning shave. You won't be able to plug your shaver into the wall directly to be able to use it with the cord, so the five minute charge is an acceptable solution.
forty-five minutes of shaving time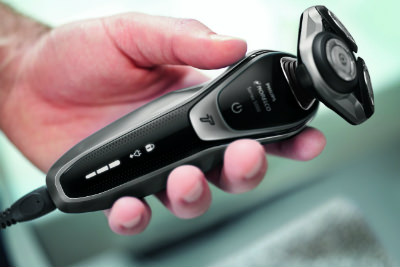 In the box you'll receive one Philips Norelco 5500, a charger power cord, a protective cap for the rotary head, and the attachable SmartClick precision trimmer. The shaver package weights 14.6 ounces.
Ratings on this shaver are excellent. Most people are pleased with the performance of their shaver.
If you like the good name of Philips and are willing to spend around $100 on a great rechargeable shaver that can be used wet or dry, the Philips Norelco 5500 S5370/81 men's shaver may be the perfect one for you.
Philips Norelco 5500