Many men who have ear and nose hairs sticking out find that are they are not only embarrassing, but annoying. Most people don't have them. People with these hairs often try to find the best solution to getting rid of them. Using tweezers can be painful, but using scissors may not get all of the hairs out, plus can be dangerous too. Fortunately, they make special men's trimmers for these needs. Panasonic has a great line of men's personal shavers, and they've also developed the Panasonic ER430K Ear and Nose Trimmer with Vacuum Cleaning System. Women may also find a hair trimmer will help them look their best.
The Panasonic ER430K trimmer provides the best solution for looking your best. This trimmer is encased with a long tube-like case. It's black and silver, with a large oval on/off button. The Panasonic logo is along the bottom front of the trimmer, along with the ER430K model number. It's wider at the base. The trimmer is attractive enough to leave on the top of your bathroom counter without being embarrassed.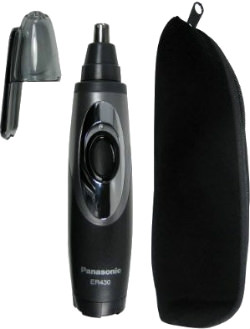 Not many nose trimmers can be used wet or dry, as most are only for dry operation. This is handy for when you need to get all your personal care needs done in the shower, plus you don't want to have any lingering hairs stuck to your skin. You can also use them in the bathtub, or the sink. The Panasonic ER430K nose trimmers are 100% waterproof, and you can easily wash them under the tap after usage.

In order to be used wet, it has to run on batteries and not an electrical cord. It uses only one AA-sized battery. You can choose to use rechargeable batteries if you do not wish to fill up the landfills with disposable ones. There is no battery included in the box, so you'll have to remember to add batteries to your purchase. With the insertion of a new battery you'll have up to ninety minutes of running time.
The Panasonic ER430K ear & nose trimmer will comfortably shave hairs from the nose and ears. It will make it much simpler, especially since it's hard to see inside your ears. You can also use it to detail around beards and do your eyebrows. You'll find that while you're trimming hairs you won't feel the trimmer doing anything at all, even though it is still working.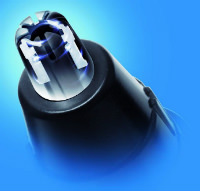 The blades contained with the Panasonic trimmer are dual edged to maximize the cutting power. Each blade is also curved, so it will safely cut and trim hair without scratching the skin, or pulling or yanking on hairs.
The blades are also made with hypoallergenic stainless steel to minimize sensitive skin reactions. They do not contain any nickel which has been known to cause skin allergies. The curving of the blades is also beneficial, as they contour to fit the curves of your nostrils or ear canals. Your hair will be trimmed down to the same level as the hairs next to them.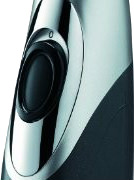 The top of the nose trimmer also has a metallic safety cone so that your skin isn't coming into immediate contact with the sharp blades.
Another great feature of the Panasonic ER430K Ear and Nose Trimmer is that it's actually built with a smart micro-vacuum system. This means that as you are trimming away hairs, the tiny vacuum is actually sucking up these hairs into the small vacuum canister. This means that trimmed hairs from your nose, moustache, or facial hair won't get all over your clothes, or worse, get deeper into your nose or ears causing annoying itching.
There is a debris canister on the trimmer so you can open it up and empty it when it is full. There is also a protective plastic cap so that you can cover the top of the metal cone before putting it into your bag. It will be great for travel as it runs on batteries and does not need to be plugged into the wall, or an international wall outlet with differing voltage.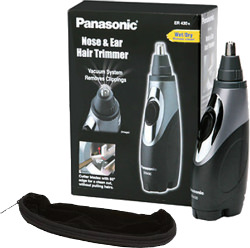 Panasonic actually has four different nose and ear trimmers. There is also the ER415SC, ER-GN30-K, and the ER412KC. All of these have similar features, except that the Panasonic ER430K does not have a light. While you could use a light on your nostrils, a light won't help you at all for your ears, unless your spouse is assisting you.
The Panasonic ER430K Ear and Nose Trimmer costs under $22, making it an affordable choice for when you need that additional personal grooming product for the bathroom.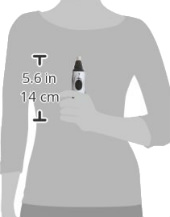 This trimmer measures 2" x 1" x 5 inches, and weighs about 3.8 ounces. There is a two year warranty to back up the product.
The reviews for the Panasonic ER430K Ear and Nose Trimmer are mostly favorable, with about 4.4 stars out of five stars from over 2600 reviews.
If you're troubled by nose or ear hairs that stick out and cause embarrassment, you can buy the Panasonic ER430K Ear and Nose Trimmer for a cheap price. Not only does it make it simple to remove these embarrassing hairs, but you'll also look your best after you've used it. The vacuuming function of the trimmer is also great, lessening clean up afterwards. You should order these great Panasonic ER430K Ear and Nose Trimmers right now, so you can look your best for that next special occasion.
Panasonic ER430K Ear & Nose Trimmer with Vacuum Cleaning System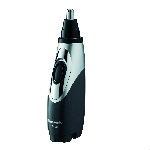 Pros
Rotary Blade System with Safety Cone
Curved, Hypo-Allergenic, Stainless Steel Blades
Vacuum System
Improved Dual-Edge Blade
Immersible in Water for Easy Cleaning