Sometimes a men's shaver doesn't do a good job of trimming the beard, and men may not want a buzz cut, but it can get expensive buying a variety of personal grooming products. The Old Spice Beard & Head Trimmer, Powered by Braun is from $20 to $30, making it an affordable purchase. This head trimmer comes in the distinctive red colour that is popular in the line of Old Spice/Braun cordless grooming products. Besides being cordless, it is also rechargeable.

This trimmer is a collaboration between Old Spice and Braun. The outer design is Old Spice, while the inner mechanics are Braun. This trimmer has
some distinctive rubberized black features around its casing, so it will be easier to hold in your hands. The back of the trimmer is all black.
With this trimmer you'll be able to keep your beard neat and tidy, and not need a drawer full of different attachments, as everything you need is there. There is an extra attachment comb in case you want more choices in how long you wish to leave your hair trimmed.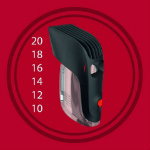 Between the two included combs: one for your head and one for your beard, you'll have twelve different length settings. This will enable you to have a personalized style so that you don't look like every other man who owns a hair trimmer. You have a choice of adjustments from 1 to 11 mm or 10 to 20 mm, depending on which comb you use.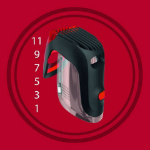 The combs have a click and lock function so they lock into place. That means there will be no uneven hair surprises once you've finished trimming the hair on your head. Both the beard and the hair combs have six click and lock positions.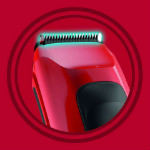 The head of this trimmer has ultra-sharp stainless steel blades. It also has a 20% narrower head versus the Old Spice Hair Clipper (no beard trimmer). This means that it will be easier to trim around tighter spaces, and you can do more precision styling of hair or beard.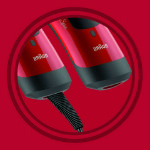 This trimmer is cordless and rechargeable for your convenience, so you don't have to worry about buying batteries or tossing them into the trash. One full charge of the battery will give you forty minutes of cordless trimming time.
One annoying aspect of many cordless products is that they can only be used cordless. But the Old Spice Beard Trimmer will still function even when it's plugged into the wall. Some men may prefer to use it this way and then not have to mess around with charger cords all the time.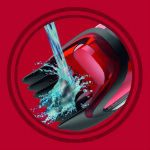 You can also use your hair trimmer wet or dry. You can bring it into the shower with you, if you wish. This also means that it's completely washable under the tap. You'll be able to rinse out the hairs, and any gels,
lotions, or soaps if you used those for shaving.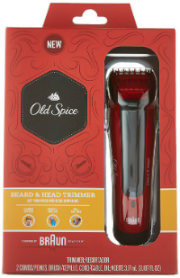 In the package will be the Old Spice Beard and Head Trimmer, 1-11 mm beard comb, 10-20 mm hair comb, machine oil, a cleaning brush, and the charging cord. You may get a sixty day money back guarantee depending on where you buy it from. There is also a two year warranty which is standard on all Braun products.
You could just buy the Old Spice/Braun hair clippers and hope that they trim your beard well, but it's important to use precision combs for that task. You don't want to spend months growing in a beard, and then wreck it with a device not meant for that purpose. If you're curious about some of the other differences between the OS Beard & Head Trimmer and the OS Hair Clipper, here are some other distinctions.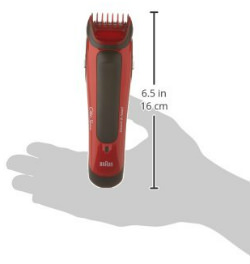 The OS Beard and Head Trimmer will trim down to a shorter length of 1 mm, which may be important for men who like the buzz cut look. The hair clippers do lengths of 3 mm and up to 24 mm. The Old Spice Beard & Head Trimmer only goes up to 20 mm, so you'll need to decide if this is adequate, otherwise you may wish to split your purchase into two different products. The final decision is up to you.
Old Spice Beard & Head Trimmer, Powered by Braun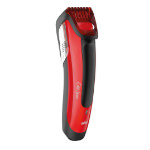 Pros
Fully washable
Rechargeable
Ultra-sharp stainless steel blades
Beard comb
Hair comb