When you're a man and you have a lot of hair on your back, you want to get rid of it quickly. There may be a day at the beach or pool coming up, or perhaps you're embarrassed as all the guys in the locker room have smooth clear skin. You want to get rid of it, and fast. Sometimes you don't want to use a disposable razor, as it can leave razor burn on your skin. The solution is the ManGroomer 211-6 Do-it-YourSelf Electric Back Hair Shaver.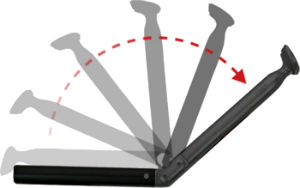 This hair shaver is made in a sleek matte black casing. It slightly resembles a man's electric shaver, with a narrow head at the top, but instead of a foil or rotary head, it has a comb-like head. The on/off button is conveniently located to the left side of the shaver. The shaver has a unique feature. The handle has a second part that folds down, and then a third part that pulls out, making it extremely long. When it's fully extended, it measures two feet long.
The handle is also adjustable, so you can adjust it to your preferred angle. It will also lock into position, so you won't get annoyed that it may pop out of position. There is a lock button on the handle. This means that you'll be able to easily reach all parts of your back to safely shave hair off, even the middle and lower parts of your back. The handle opens up to a 135 degree angle.

The ManGroomer shaver is cordless and rechargeable. It takes a quick charge and it will provide optimum power between charges, never slowing down even when it's on its last 5%.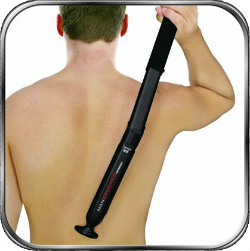 The blades built within the ManGroomer are premium quality.
You'll find that they leave your back feeling extra smooth.
The blades measure 1.5 inches in width, so you will need to do fewer strokes to get your morning shaving done.
The handle of the ManGroomer Sku 211-6 is made from rubber, so you'll be better able to hold it in your hands. This will also prevent you from dropping it. It's also designed to be lightweight, making it easier to grip, even when you're reaching backwards to do your back.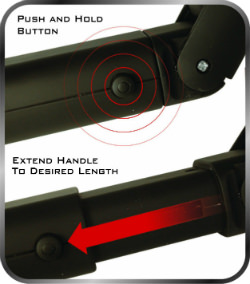 The ManGroomer has utilized the latest in men's shaver technology and has the claim that it is the most advanced back shaver available for men. It will help them to quickly and easily eliminate back hair. The patent is pending on the ManGroomer electric back hair shaver.
Since it folds flat, it is perfect to bring for travel. You'll love it when you can look your best on a tropical beach.
The ManGroomer Sku 211-6 is available for under $35, making it affordable as a secondary personal hair groomer product. There are also accessories included in the package, including a protective cap, a cleaning brush, the AC recharging adaptor, and an instruction booklet. The package measures 9.2" x 1.5" x 2 inches and weighs under one pound.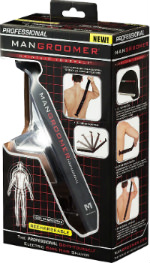 The reviews are favourable on this product, being 4.3 stars out of 5 stars. Most men are pleased with how easy it is to use this product.
If you've been searching for an affordable men's personal back groomer, but don't want to go with a traditional type of razor blade, the ManGroomer 211-6 Do-it-YourSelf Electric Back Hair Shaver may be the right tool for you. It makes looking your best simple, and best of all, no one will know that you had to shave your back!
ManGroomer Sku 211-6 Electric Back Hair Shaver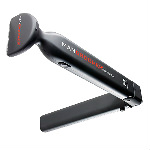 Pros
Adjustable Handle with Extreme Reach
Rechargeable Battery Power
Premium Extra-wide Blade Design
Ideal 135-degree Opening
100% Rubberized