Some men prefer the clean close shave of traditional safety razors rather than using a cordless electric men's shaver. Not only can you get a better shave with a Gillette product, but the expense is less over time, even if you have to buy replacement blades. Gillette has a great line of men's traditional safety razor blades in its Fusion branded line. The Gillette Fusion Proshield Razor has a Flexball handle with two razor blades contained in the package. This may be the razor for you, particularly if you're not interested in buying the Fusion Power version that requires a AAA battery to run it.
Gillette has the claim that the Gillette Fusion Proshield is their most advanced razor blade.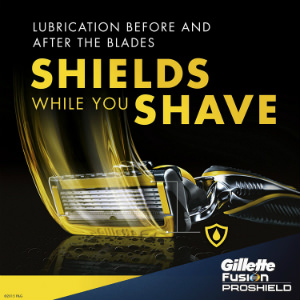 The handle is made from a dark grey plastic material with yellow highlights, and the blades are silver and encased within a yellow and dark grey plastic material too. The FlexBall is yellow and allows the head of the razor to flex and move.
The Gillette Fusion Proshield promises to shield while you shave. Around the razor blades are a yellow framed strip. This is called the "Shield" which will shield your skin from irritation. It provides double the moisturize to make shaving a much simpler process. This yellow shield will provide you with lubrication before and after the blades, and while you shave. The Shield feature will keep your skin free from irritation and razor burn while you shave, and minimize the redness that can occur after shaving with a traditional razor blade.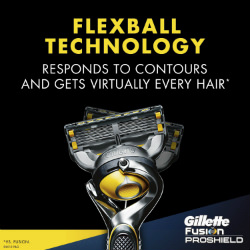 You can do your shave dry or wet. Use soap and water, or add shaving products to your routine. You can use shaving gels, foams, lotions, and creams. One great product that will work well with your Gillette Fusion Proshield Razor is the Gillette Fusion 2-in-1 shaving gel and skincare gel. This comes in a spray bottle in blue, white, and orange colours with an ocean breeze scent.
Just like the Gillette Fusion Power, the Shield also has FlexBall technology. In this case, it has a yellow FlexBall located at the end of the handle and base of the razor blade. This enables the razor blade head to pivot back and forth. This movement will better enable it to respond to the contours of your face, and effectively shave off all hairs within reach. It doesn't matter if you're shaving your chin, neck, jawline or sideburns, it will do a great job. It will virtually get every hair on your face, so you won't have to do any touch-ups after.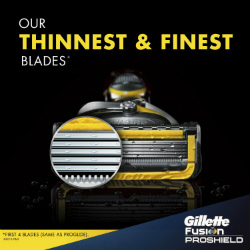 Within each razor blade are five rows of sharp razors. Each is the thinnest and finest blade in the Gillette line. If the first doesn't get all the hairs, the successive four blades will. Thinner blades also promises that there will be less tug and pull on your facial hair. This means that you will have incredible comfort, even in the first four blades.
If you flip your razor blade around, you can use the precision trimmer on the backside. This is perfect for effectively shaping the latest beard or facial hair styles. You can do your accurate edging and your shaving all with one tool.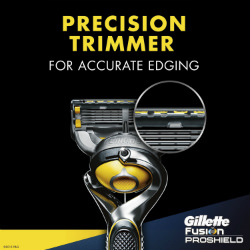 You can use any other Gillette Fusion razor blades with your handle too, as all Fusion blades will fit all fusion handles. There is the Chill Cooling technology blades, which have a strip of protective blue moisturizing gel. So, if you find that you may have chosen the wrong types of blades for your skin, as your shave may always run hot, the Chill blades may be better for you. Or, your alternative is to use the handle you already have, and then try some of the Proshield Chill blades. If you like them, you may wish to buy the blue Proshield handle to match, as the colours coordinate together.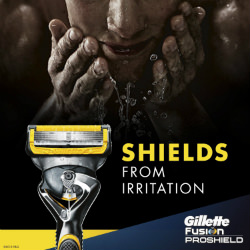 Many razor blades contain only three blades, so you'll notice an important when you use a razor blade that actually has five blades. Many men agree that five blades within the razor is more effective than only three. Set aside your cheap 3-bladed razor systems and give this Gillette Fusion Proshield Razor a try. Priced at under $11, you can't go wrong at giving it a try.
The reviews are favourable for the Gillette Fusion Proshield Razor with 4.2 out of 5 stars in over 515 reviews. It is perfect for men, or it would also make a great gift.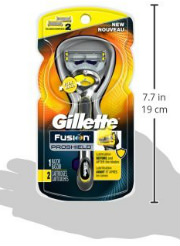 The Gillette Fusion Proshield Razor measures 7.7 inches or 19 centimetres tall with both handle and razor blade attached. The package measures 3.9" x 1.9" x 7.8 inches, and weighs four ounces.
The Gillette Fusion Proshield Razor comes in a yellow, orange, and black cardboard package with clear plastic front. You get one Proshield handle and two razor blade refills. The entire set costs under $11, making it an affordable way for men to shave. You can also purchase replacement Fusion Proshield refill razor blades whenever the old ones get dull, or the yellow moisture strip is gone.
Order plenty of Proshield Blades so that you have a good stock of them in your bathroom. This ensures that you'll always have a spare within reach and never be disappointed.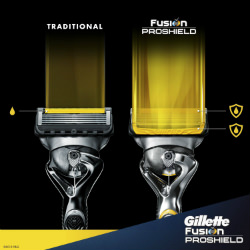 There are many different traditional men's safety razor blades to choose from. Besides the Gillette Fusion Proshield, you have the choice of the Gillette Fusion ProShield Chill, the Gillette Fusion Proglide, and the regular Gillette Fusion. Many men may wonder at the differences between each type. Each has a distinctively different colour. The ProShield has the distinctive yellow and dark grey plastic materials so it stands out. All four of these products have the same comfort guard, 5-blade shaving technology, and precision trimmer.
All have the FlexBall technology, except for the regular Gillette Fusion. And all products have the thinnest and finest blades except for the regular Gillette Fusion. The ProShield and the ProShield Chill both have the lubrication before and after their blades. There may also be some differences in price. The ProShield does not have the vibrating feature of the Power.
For men who appreciate a smooth clean shave, they'll love this Gillette Fusion Proshield Razor. The great features will help them to get the cleanest smoothest shave possible. You may wish to try the special ProShield Cool blades too. The handle is reusable and should last you indefinitely. You can try either of the ProShield razor blades or any from the rest of the Gillette Fusion line.
Gillette Fusion Proshield Razor