Some men who have facial growth, such as beards, moustaches, or sideburns, may find it difficult trimming around their facial hair styles with a razor blade or their full-size men's shaver. The Gillette Fusion Proglide Styler solves that problem. It's a 3-in-1 men's body groomer, so men only need to purchase one personal care appliance.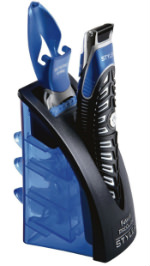 You may be surprised to learn that this shaver is powered by Braun, with a Braun motor. Braun has spent nearly 100 years designing motors of men's and women's electric shavers. During this century, they have been mainly cordless and rechargeable, though they still offer a corded version for men stuck in the old ways.
The Gillette Fusion Proglide Styler has been tested by dermatologists, and is body-approved. It works perfectly, even on the sensitive regions of the body. It provides for effortless and even trimming. You'll find that it provides a comfortable shave, yet it trims hairs right down to the skin if that's what you wish.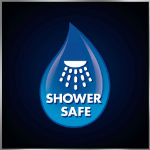 The Gillette Fusion Proglide Styler 3-In-1 runs on a battery though, not a rechargeable battery, but that's to be expected at this price point. For your convenience, you'll get one battery in the box. But it does have another great feature. It can be used wet, so you can shave with running tap water, or take it into the shower or the bathtub with you. You can also use it with shaving gels, lotions, foams, or creams.
Braun is one of the top six men's shaver manufacturers in the world, and has partnered with Gillette, to make a great men's trimmer and shaver in one. The Gillette Fusion Proglide Styler can be used to trim facial hair, shave off all hair, or remove hair from head or body. Braun is also the reason why the shaver is slender and easy to use, as they have designed their motor to remain small.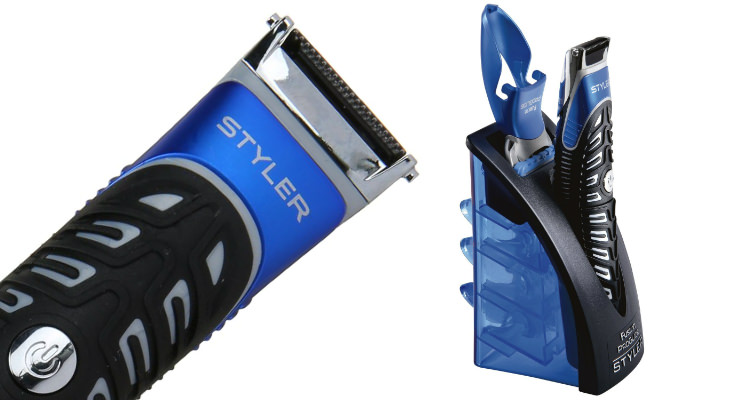 The Gillette Fusion Proglide Styler has a slim and elongated black design, with blue backing the "Styler" logo at the top, and blue at the base. There are some convenient indentations along the front, enabling it to be easily held in the hand. The Gillette shaver has a narrower head both lengthwise and widthwise.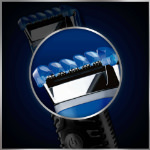 Men will find that the design of this shaver will be easy to maneuver around their face. The compact design will be easier to trim to the latest beard styles that you see in men's magazines, or in film. The ProGlide is Gillette's gentlest cordless shaver to date.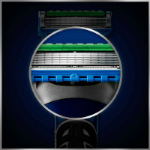 While Braun has focussed on the motor, Gillette has focussed on providing the best shaver blades, which is what they're known for in the world of men's shaving products. Gillette has designed this trimmer with their more advanced blades. These blades will provide the closeness and comfort needed, without leaving the face red and raw afterwards. Built into the head of the shaver are four blades side by side, so that one pass of the shaver will snip off most hairs.
This shaver also has a precision edging blade. This will help you to trim your beard style to crisp, clean, well-defined lines. This blade is on one side of the trimmer, so all you have to do is turn it around to use that side.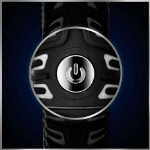 The Gillette Fusion Proglide Styler comes with a handy holder, made from black and clear blue plastic, so it looks attractive on the counter top. This holder will also hold the additional shaver heads so it won't get lost with your other bathroom stuff.
There are four attachments that come with the Gillette Fusion Proglide Styler 3-In-1 in the box. You can choose which one you want for the optimum length of your beard or facial hair. Of these, there are three combs which will let you choose the custom length of your hair, so you don't have to look like any other man with the same Gillette trimmer. You can choose each comb based on its length. The shaver head can be detached for easy cleaning.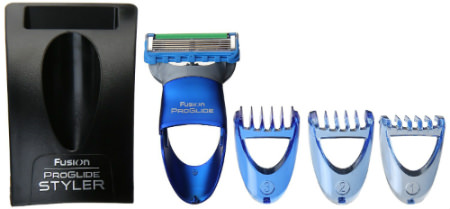 Since the Gillette Fusion Proglide can be used wet, it can also be rinsed under the tap to get clean.
This Gillette Fusion Proglide Styler costs around $20, so for men who wish to have a full-size mens' shaver, and the smaller Gillette, it will be of minimal extra cost.
In the package you'll receive one trimmer, a ProGlide Power Cartridge, three trimming combs, one battery, and a holder. It will come in frustration-free packaging, so you can get your trimmer easily out of the package.

If you've been seeking a great all-in-one men's personal care grooming device, take a look at the Gillette Fusion Proglide Styler. You'll be pleasantly surprised that it can handle all these chores, but yet remain at a great price.
Gillette Fusion Proglide Styler 3-In-1 Men's Body Groomer With Beard Trimmer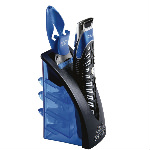 Pros
Waterproof Versatility
Three Exchangeable Combs
Precision Edging Blade
BRAUN Engineered Technology
Shave With Fusion Proglide Power