The Gillette Fusion Proglide Men's Razor is an inexpensive way to trim facial hair. This is a traditional men's style razor for men who prefer to not use a men's cordless electric shaver, or who want a second product to do touch-ups of a beard or facial hair. This shaver is a manual style of shaver that runs on a battery, so it's cordless, but it can be used wet or dry.

The Gillette Fusion Proglide Men's Razor has a long silver handle with a rubberized black grip. The handle is a bit longer than most standard razor blades, so men can more easily hold it in their hands. The razor head can take Gillette Fusion razor blades. Right under the razor head region is an orange flex head, which will help to release the razor blade head for when you need to insert sharp new blades.
on-board battery provides soothing Micropulses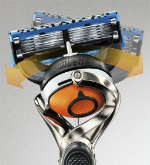 While the Gillette Fusion Proglide looks a lot like a traditional shaver, and is not technically a men's electric shaver, the on-board battery provides soothing Micropulses that will help to reduce the friction of shaving. They will also help to increase the razor glide so you'll be able to more effortlessly shave. This will lessen the feel of the razor blades, and you'll have a much more comfortable shave than if you simply used a non-battery powered traditional razor.
In the package are two extra razor blade refills. The razor blades have a protective blue plastic surrounding them. There is also a light blue strip of moisturizer, to make shaving much easier. Each refill promises to give a month of great shaves.

The razor blade head of this shaver also moves sideways in either direction, making it more easily shave along the contours of a man's face. Gillette has billed this shaver as "Gillette's Best Shave". This is also Gillettes #1 razor for sensitive skin—and this label covers both their manual and their power razors or shavers.
head of this shaver also moves sideways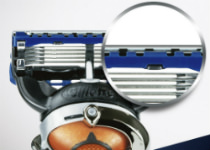 Gillette has tested this razor blade. After their tests, they found that the Gillette Fusion Proglide blades used in this shaver were two times preferred when they were used with this specific Gillette Fusion Proglide razor blade handle. This overall preference was determined in comparison with their former ProGlide shaver, and was tested among all ProGlide users.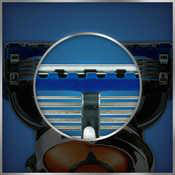 The blades have a built-in precision trimmer for more accurate edging. This is helpful for men who have a neatly trimmed beard, sideburns, or other facial hair style. You simply turn your shaver around to use the blades on the back to do your more accurate edging.
Built within the blade heads are actually five blades installed in a parallel pattern. Each of these blades has been cut to be the thinnest, finest and sharpest possible. Since there are five blades, they provide for less tugging or pulling during the shaving process.
The razor blades of the Gillette Fusion Proglide have also been reengineered to a low cutting force razor blade to make shaving easier. Each blade has also been coated with a low-resistance coating. This enables the blades to more easily cut through hair without grabbing or tugging. There is also a blade stabilizer that keeps each of the five internal blades spaced evenly apart for optimum comfort, but still trims all the hairs effectively from a man's face.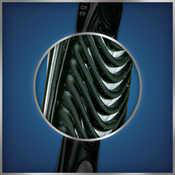 Between each of these blades are streamlined comfort guard channels. These channels help to utilize men's shaving cream so that it works effectively with the blades, and never has the shaving cream interfering with them. Together, they can stretch the skin to provide a close, more comfortable shave.
The white blue strip located on each of the razors is an enhanced Lubrastrip. It contains mineral oil and lubricating polymers that help the blades to glide smoothly over skin and on additional repeat strokes.
It contains mineral oil and lubricating polymers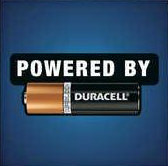 Gillette has thought of everything when they designed this shaver. Even the handle is built with the latest shaving tech. The top of the handle has FlexBall Handle Technology. The handle will enable a man to use it to shave easily around all contours of their face. This handle can pivot front to back and side to side, making it responsive to the contours of your face. You'll be able to have a closer shave with few missed hairs. This means that you won't have to repeatedly go over the same spots on your face again and again, which can lead to redness and razor burn in razors that don't have battery power.
Men can also use this to shave with running tap water to get a better and closer shave. They can also use it with shaving gels, foams, creams, or soap. It is easily washable after use: simple rinse it off and pat dry with a washcloth. Gillette recommends that you use their razor blade with their own Fusion ProGlide Sensitive Shave Gel to get the best shave possible.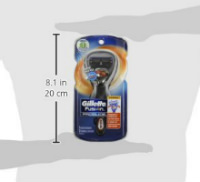 When you need to replace your Fusion razor blades you can replace them with any Fusion brand razor blades, as all Fusion razor blades will fit on all the Fusion handles. Now you don't have to worry about buying the wrong type.
The Gillette Fusion Proglide Men's Razor costs close to $10, so is affordable enough to add to your men's shaving kit.
Reviews are favourable for the Gillette Fusion Proglide. On Amazon, it has 4.5 out of 5 stars.
If you're a man who likes to use a traditional razor blade you'll appreciate how great the Gillette Fusion Proglide works on your face, with the additional battery technology. It doesn't cost a whole lot more than traditional razors either, and you can still use the same razor blades. The innovative movement, blade stabilizer, innovative comfort guard, Lubrastrip, precision trimmer and improved handle are all designed to impress.
You'll want to compare the Gillette Fusion Proglide with other Fusion five blade and three blade systems, but it's guaranteed you'll choose the Gillette Fusion Proglide Men's Razor as the best for your face.
Gillette Fusion Proglide