Conair has been a maker of small personal appliances for a few decades now, yet we seem to forget to take their products into consideration when hunting around for the best men's shaver or trimmer. Conair tries to be a bit different, in order to stand out from the dozens of men's shavers on the market today. The Conair I-Stubble Trimmer may have a slightly different name, but it is still a men's shaver and trimmer in one.
The Conair I-Stubble Super trimmer comes in a long sleek shiny black body with a white V-shaped graphic on the front. The on/off button is small but located about 3/4 of the way down. There is an blue LED battery readout that lists the percentage of charge remaining—for example 40%. When viewed from the sideways, it has a curved design, making it ergonomic and easy for men to hold in their hands.
This is a rechargeable and cordless shaver that can be used wet or dry. You can use it to shave around mustache, sideburns, or beard, or use one of the custom length settings to leave stubble or hair for your individual look.
There are + and – buttons on the front too, which allow you to select the optimum length of hair that you wish to leave on your face, from stubble, to beard. This selection will also show on the front of the trimmer body.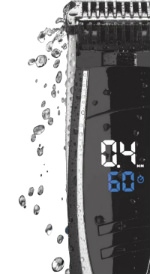 It sits conveniently upright in a black charger stand. This is convenient for men who have little space on their bathroom counter tops. The cord then leads from the trimmer through the stand and to the wall.
Conair has built this shaver with advanced blade technology. The blades have been electro-chemically formed so that they are the sharpest that they can be, without compromising on durability.
This trimmer has adjustable speed levels which are unusual in a trimmer in this price range. You can also make motorized adjustments of 0.4 mm to 5 mm, in adjustments of 0.2mm, if you wish to trim all your stubble off, or leave some for a special look. These settings are available on the middle front of the trimmer. There is also a length memory, so if you turn off your shaver, the next day when you turn it on, it'll remember where you were before. You have the choice of the following length settings: 0.4, 0.6, 0.8, 1.0, 1.2, 1.4, 1.6, 1.8, 2.0, 2.5, 3.0, 3.5, 4.0, 4.5, and 5.0.

There is a special protective comb that will help to trim hair to the desired level, and keep the blades away from the skin. This comb can also be removed, depending on the type of look that you want to achieve. You can just use the blade for fine lined trimming or detail trimming around facial hair.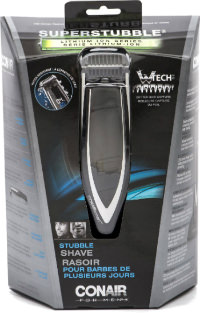 The Conair I-Stubble is also easy to clean, since it can be rinsed under the tap to get out the fine stubble hairs that could clog it up otherwise. It is 100% waterproof, so if you drop it in the bathtub or shower, it will be safe. Shaving with water will also help you to get extra close to the skin. You can even use shaving gels, soaps, creams, or foams to provide soothing properties to your skin to reduce irritation. Be sure to rinse off your trimmer after use to prevent any jamming and to extend the life of your trimmer for years to come.
This trimmer is built with a lithium ion rechargeable battery, giving it a reliable charge for cordless usage. It will even stay fully powered, even when it is nearing 0%. It will take ninety minutes to fully charge it up. Once this happens, a man will then have sixty minutes of shaving time. There is also a quick five minute charge, which is a standard feature on most men's cordless shavers today. If there is no power left for shaving in the morning, it will only take five minutes to get it powered up enough for one shave. But you'll want to ensure that you remember to plug it in, so you don't have to wait five minutes that next day.
The foil-style head of this shaver has an ultra flex and contour movement, so it can hug the curves and corners of your face. Shaving will be easy to control, yet still comfortable.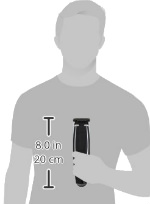 The Conair I-Stubble Trimmer is priced at under $100, making it affordable for every man. The shipping package measures 3.5" x 7.2" x 11 inches and weighs about two pounds.
If you're a man who doesn't need a fancy name brand men's shaver that costs a lot of money but you still seek to have a great trim or shave, the Conair I-Stubble Super Trimmer is worth taking a closer look at. Not only can it be used wet or dry, but it's cordless and rechargeable too. There are few extra features than a man really needs in a foil style trimmer.
The Conair I-Stubble Super trimmer is also backed up by a two year warranty so you will be confident that you're purchasing a good product that's not going to break within your first few months of purchase. If you like the look and convenience of this men's trimmer, go ahead and buy one!
Conair Men's Super I-Stubble Trimmer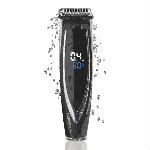 Pros
Advanced Blade Technology
Ergonomically Designed
Precision, Power, and Durability
100 percent waterproof
Lithium-ion rechargeable battery