The Braun Silk-Epil Bonus Edition can be used wet or dry, and provides a fast and precise body hair removal system. It works cordlessly, so you can shave anywhere, even in the shower. This wider epilation head works for legs, body, bikini region, and arms. It provides a quick way to remove hair, and will keep skin looking smooth for up to four weeks after. When used correctly, hair removal will be painless with regular usage.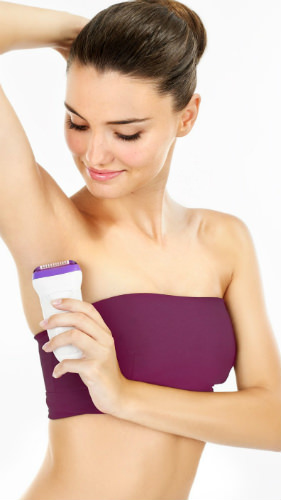 The Braun Silk-Epil is cordless, and runs on a rechargeable battery. The charger comes included in the box. You'll find that the Silk-Epil runs quietly, so that you can have a peaceful shave. It runs smoothly, just like Braun shavers are known for. It also shaves quietly in the shower or under running water.
The Braun Silk-Epil has forty tiny tweezers in the epilate head. These tweezers are what grips your hairs, and pulls them out. You won't need to shave again for up to four weeks, as the tweezer pulls out the entire head from the root bed.
The Braun Silk-Epil has a forty percent wider epilation head, so that it will remove more hair in one stroke. Shaving time will be shortened. The Silk-Epil is built with innovative microgrip tweezing technology. The mini tweezers will grip tiny hairs that you would never be able to remove with waxing alone. While you may wish to use the cleansing brush on your face, you may also wish to use the epilator portion on your face. It may be best to use the contouring head for this chore. This is also a separate Braun epilator that may be a better choice for this chore, if you really like this epilator.
You may find you need to use a slower speed on the short hair. If there is initial irritation in the beginning, you may wish to keep an ice pack handy.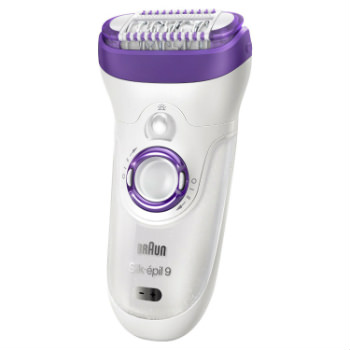 The Braun Silk-Epil may be a better choice than waxing, shaving, tweezing, or use depilatory creams. It works quickly, and you can do it anywhere. It's best to use it in the evening, so that if there is any redness or irritation, it will calm down by morning. You'll also get to save yourself expensive salon visits. Instead of shaving every day or two, you'll only need to use your Silk-Epil once a month, or every four weeks. The Silk-Epil is perfect for women who don't have enough hours in the day to shave. It's also fast to use your Silk-Epil once a month. It removes hairs quickly and cleanly.
You may wish to learn how an epilator works before purchasing one. Be sure to read all directions after opening up the box. Correct usage means that you'll effectively remove hair for the smoothest legs possible. The best way to prep for epilating is to have a hot shower first, then apply soap, or shaving gels, lotions, and creams to minimize irritation. You'll also find that applying creams and lotions after shaving will minimize the feeling of tenderness.
The Braun Silk-Epil is made with MicroGrip tweezer technology, that grasps more hairs in one pass. It's easy to grip the Braun Silk-Epil in the hand, and there will be less dropping of it in the shower.
The Braun Silk-Epil also comes with a traditional electric shaving head, so that you can also shave in the normal way. You may find that the Braun electric shaving head works better than other popular brands of electric shavers.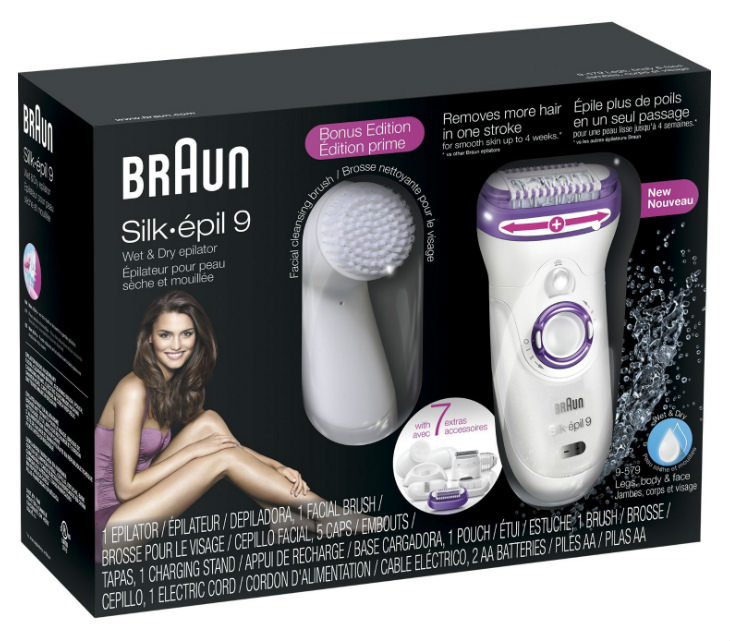 The Braun also has a sensitive area cap, so you can carefully shave or epilate around delicate regions.
Men may also wish to use this epilator on their chest, arms, and legs. It works well with different types of hair thickness and length.
The Braun Silk-Epil also has a brush that can be attached to the end. This can also be used wet or dry. The facial cleansing brush can help to remove makeup, excess oil, blackheads and debris. It can be used with soap, water, lotion, and other cleansers. This brush will clean skin up to six times better than using a wash cloth alone. The cleansing brush also works as an exfoliator, to remove dead dry skin from the face, gently and effectively. There are two speeds to select to clean your face.
The Braun Silk-Epil comes in a kit. It measures 10.2 x 3.7 x 7.8 inches. It weighs about 1.8 pounds for the epilator and all the attachments in the box. It comes with a one year warranty to replace or repair it free of charge for one year after purchase. There is a toll free number you can call where they'll refer you to the nearest Braun service center.
In the box you'll get one Braun Silk-Epil epilator, a little brush to clean it of the tiny hairs that may get stuck in the device, the extra shaver head, plus four different attachments for the blades. These blades can be used to chose whether you need to epilate your legs, underarms, or face.
While there is no dual voltage, there's no reason why you can't charge it up fully in advance, pack it in your luggage, and travel anywhere around the world. One hour of charge will give you about forty to forty-five minutes of epilation time, which is plenty to do your entire body a few times round. There is a handy storage bag, so your epilator can stay clean and secure, when not in use.
The Braun Silk-Epil is perfect for removing hair from your entire body. The additional attachments allow you to choose the most effective blades for your region of the body. The additional facial cleansing brush makes it a more adaptable tool, and the price tag is worth it for the additional features.